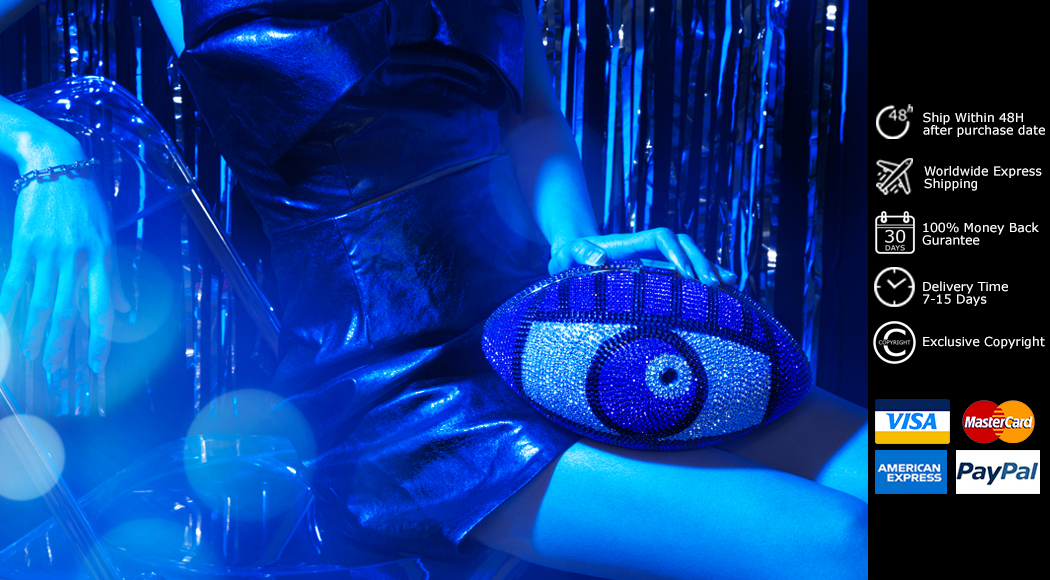 Every girl should be confident and love herself, just like our prom bags, shining and unique. This blue eye handbag designed with blue, white and black claw diamonds, artificial inlays make the product more refined and shining
Do you want more compliments when you go to the party? Our handbags may can help you, whatever you go to wedding, fashion show or prom, you are always the shining girl.
Feature
Specification

Unique design with small rhinestone

Material: Rhinestone and metal


Multiple wearing modes

Inside: Metallic leather lined interior


Durable metallic leather lined interior

Clolor: Blue

Alloy metal hardware make strong and sturdy

Size: 6.69*3.74 in


Weight of bag: 680g

Applicable: Women

Closure: Side push down

closure

List

Copyright

Evening clutch purse buy

The copyright of all bag

one get five includes:

designs on this site

1x Evening clutch purse


belongs to Uniibling.

1x Spare rhinestones

Without the written

1x Crossbody chain

authorization of Uniibling,

1x Fragrant slices

no company,website

1x Package

or individual may copy

all the designs of the

bag on this site.

Q&A

Q: Will the chain of the bag break easily?




A: Our bag is made of high quality hardware not easy to break.

Q: Does the bag smell bad?




A: No, our bags made of friendly material, and has fragrant slices inside the bag.




Q: Will spare rhinestones be provided?

A: Yes, we will provide one small bag spare rhinestones inside the bag.